Whether you're moving within Phoenix or relocating from further afield, the dual southern Phoenix enclaves of Ahwatukee and Chandler offer newly minted residents genuinely dynamic places to call home.

Let's highlight what makes each a special place to call home in our local relocation guide, as well as The Santistevan Group's extensive menu of relocation services to help make your transition a successful and stress-free move.
One of Phoenix's most bucolic suburbs, Ahwatukee, which means "house of my dreams," is a rarity in the great southwest—a genuine small-town environment amid a big city.
Situated 20 minutes southeast of Phoenix's urban core, Ahwatukee's proximity to South Mountain defines the area. The massive 16,000-acre park and preserve is one of the most stunning natural features within a central metropolitan area (it's the largest municipal park in the U.S.). The preserve is home to hiking and bike trails, various desert wildlife, and lookouts that offer sweeping views of the city.
This dominant natural feature provides Ahwatukee shelter from Phoenix's more hectic pace of life. However, the urban village is not wholly isolated from everything that makes the city such a wonderful place to call home.
I-10 forms the neighborhood's eastern border. Major employment centers and popular commercial districts are within a few minute's drive.
Phoenix Sky Harbor Airport
is 15 minutes away.
Chandler
is only 20 minutes away. The resort suburb of
Scottsdale
is five minutes more.
Closer to home, the affluent, well-regarded Ahwatukee is its own spectacular destination. The area is decidedly residential. Quiet neighborhood streets and an excellent selection of nearby schools, both public and private, make this area a sought-after location for young families to flourish and prosper.
Two small but bustling commercial districts at opposite ends of South 48th Street provide the community with all of the comforts one might need while keeping close to home.
The Ahwatukee Country Club
features prominently at the heart of town, while the adjacent
Foothills Golf Club
and the
Arizona Grand Golf Course
offer additional outdoor pursuits.
The real draw to the village of approximately 85,000 residents is the neighborhoods and homes. The residences, particularly along the village's northwestern border and near the
South Mountain Park and Preserve
, are spectacular. In this part of Ahwatukee, homes can run from $1 million up to $3 million and beyond.
Elsewhere, more modest homes are priced from between $500,000 and $750,000. The village's eastern region features a number of neighborhoods and condominiums that are ideal for picking up investment properties to help diversify a portfolio.
Major parks, attractions, and restaurants in Ahwatukee include:
◾ South Mountain Park and Preserve
◾ Pecos Park
◾ Desert Foothills Park
◾ Sunray Park
◾ Mountain Park Ranch Hiking Trail
◾ Arizona Grand Resort & Spa
◾ Hillside Spot
◾ Nello's Ahwatukee
◾ Florencia Pizza Bistro
◾ Los Taquitos
◾ Pomegranate Cafe
◾ Rawhide Western Town
◾ Wildhorse Pass Casino
◾ Phoenix Premium Outlets
◾ Bondurant High Performance Driving School
For families, education is of vital importance. Here are a few of Ahwatukee's most notable private academic institutions:
◾ South Valley Prep and Arts School
◾ Valley Christian Schools
◾ St. John Bosco Catholic School
◾ Grace Christian Academy
There's little question about the distinction of Chandler as one of Phoenix's, and for that matter, Arizona's, most popular cities for relocation. The city of nearly 265,000 residents truly has it all: excellent schools; community-driven neighborhoods; abundant, well-paying jobs; a sound economic foundation; outdoor activities; and a wide selection of unrivaled cultural pursuits.

Considering the above, it's little wonder that Chandler is often touted as one of the best places to live in Metro Phoenix and a top spot for young people and young families.

Once a sleepy little burg, Chandler has grown into a world-class suburban enclave over the past decade and a half. There is a robust technology and aerospace culture within the city—Intel, NXP (semiconductors), PayPal, and Northrop Grumman all have significant presences here.

Aside from its major employers, there is a lot to do and see in Chandler as well. Situated to the southeast of downtown Phoenix, Chandler is only a 20-minute drive from Phoenix Sky Harbor Airport. Set away from Phoenix's other major burgs such as Mesa, Scottsdale, Tempe, and Glendale, Chandler carries its own distinctive culture and vibe.

The nearly 70 recreational amenities are a significant draw. They include an abundance of community parks, six community aquatic centers, recreational centers, urban-fishing lakes, and several museums and performing arts venues, including the Chandler Museum, the Arizona Railway Museum, and the 1,500-seat Chandler Center for the Arts.

Downtown Chandler is a particular highlight, as are the area golf courses. A few favorites include Ocotillo Golf Club, the Bear Creek Golf Complex, Lone Tree Golf Club, Sunbird Golf Resort, and Springfield Golf Resort.

One of the city's biggest attractions is the Chandler Fashion Center. The center is a thriving indoor mall featuring over 180 stores and an outdoor shopping village. It's also a favorite of those who enjoy their chain dining on the upscale side with a BJ's Restaurant and Brewhouse, a Cheesecake Factory, and a P.F. Chang's.

Beyond the Fashion Center, Chandler is a shopper's delight with even more retail therapy opportunities spread throughout the city. They include Downtown Chandler and Downtown Ocotillo, The Shops at Pecos Ranch, Promenade at Fulton Ranch, and Fulton Ranch Towne Center.

Chandler's most celebrated neighborhoods provide residents an incredible upscale lifestyle. Affluent and extremely attractive to those with families, the top communities offer some of the Southwest U.S.'s best accommodations.

Many of the most popular neighborhoods are well-thought-out master-planned communities. A sampling of several of Chandler's best spots to call home include:

◾ Cooper Commons and Circle G at Riggs Homestead Ranch: These two developments border each other in southern Chandler. Cooper Commons is the more modest of the two communities, with homes priced from $350,000 to $600,000. Circle G is the more opulent choice, with over 2,000 residents, each dropping north of $1 million to live here.
◾ Fulton Ranch: This development is a massive draw for those seeking a gated community with waterfront buying opportunities. Because it's not yet fully built out, there remain opportunities for ground-up development in the midst of one of Chandler's most vibrant residential areas. Homes range from $500,000 to more than $1 million.
◾ Ocotillo: A multi-development master-planned enclave, Ocotillo features waterfront homes and a lot of park space. Ocotillo is practically a city within a city adjacent to Intel's Chandler campus. The community includes its own downtown and golf club.
◾ Tuscany: Opulent, extravagant, and designed for those with deep pockets, Tuscany is one of Chandler's most exclusive addresses. Homes rarely become available here, and when they do, the stately residences command over $1 million.
◾ West Chandler: Featuring more modest homes than other communities on our list, West Chandler is an ideal spot for young and growing families with many amenities.

Major parks, attractions, and restaurants in Chandler include:
◾ Paseo Vista Recreation Area
◾ Tumbleweed Park
◾ Veterans Oasis Park
◾ Desert Breeze Park and Railroad
◾ Snedigar Recreation Cente
◾ Marriot Phoenix Chandler
◾ Cambria Hotel – Chandler Fashion Center
◾ Peixoto Coffee Roasters
◾ The Brickyard Downtown
◾ The Perch Brewery
◾ Hash Kitchen
◾ The Sicilian Butcher
◾ Chandler Fashion Center
◾ Koli Equestrian Center
◾ Chandler Museum
◾ Chandler Center for the Arts

Outstanding educational opportunities await families here in Chandler. A few of the most notable private academic facilities include:
◾ Brightmont Academy
◾ Summit School
◾ Desert Jewish Academy
◾ St. Mary-Basha Catholic School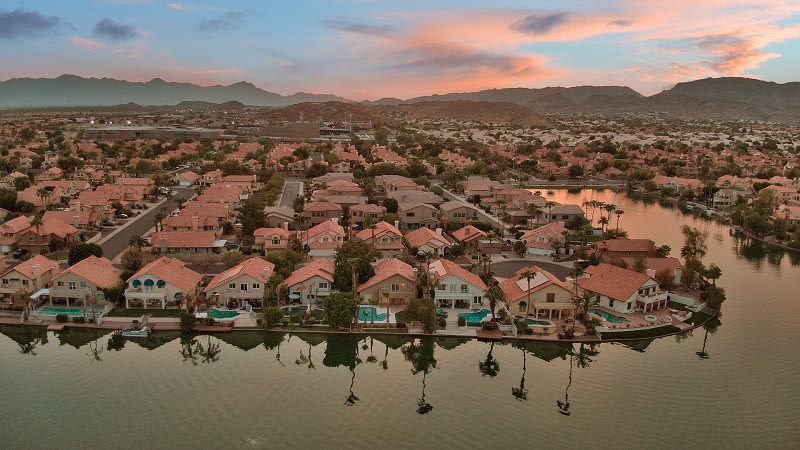 Ahwatukee real estate
Moving Checklist
When you're ready to move, you'll want to make sure that you check every box. Here are a few things to keep in mind when you're packing up and heading out.

◾ Update Your Mailing Address: You won't want to miss any important correspondence, so be sure to update your mailing address and prepare mail forwarding for your move-in date.
◾ Change Your Permanent Address: Updating your address is key to making sure you don't miss a beat when you move. Changing your address on your driver's license, insurance, IRS information, social security documents, and bank information helps ensure you're up-to-date where it matters most. Similarly, you'll want to make sure that your voter registration is up-to-date so that you don't miss out on any important elections.
◾ Find Local Doctors: Taking care of yourself is crucial, especially during such a significant change as relocating. Finding local doctors is imperative for maintaining a healthy, happy lifestyle in your new home.
◾ Don't Forget Utilities: Call ahead to coordinate turning on utilities in your new home so that you have active water, sewage, and electricity when you're ready to move in. Other vendors, such as trash removal and cable and internet providers are just as important, so be sure to add those to your to-do list!
About The Santistevan Group
Relocation is never easy. Whether your move is a solo endeavor or one with your family at your side, we recognize the emotional stress that a new journey can create.

As a trusted Group of Berkshire Hathaway HomeServices, the Santistevan Group offers peerless relocation assistance and services working alongside select corporations and relocation management companies.

We also offer our comprehensive relocation services directly to consumers.

We are local experts intimately familiar with Phoenix, Chandler, Ahwatukee, and the region's collection of spectacular communities and neighborhoods. Our specialists ensure your relocation is a smooth transition, providing insight and valuable assistance as you acclimate to your new home and lifestyle.

Our approach is simple. We provide you with a single point of contact, an individual need analysis, and a careful selection of realtors best suited to your relocation requirements. We deliver worldwide broker referral services and continuous follow-up throughout the relocation process.

If you're arriving in Phoenix, our destination services and home buying and renting assistance include:
◾ Area overviews and tours
◾ Temporary housing
◾ Home finding assistance from certified relocation specialists
◾ Rental assistance
◾ International settling-in services

For relocation out of Phoenix, our marketing and home sale services feature:
◾ Advanced property marketing from certified relocation specialists
◾ Broker price opinions
◾ Corporate inventory management
◾ Property management

Additional relocation services include affinity programs, group and international moves, settling-in services, and corporate inventory home management.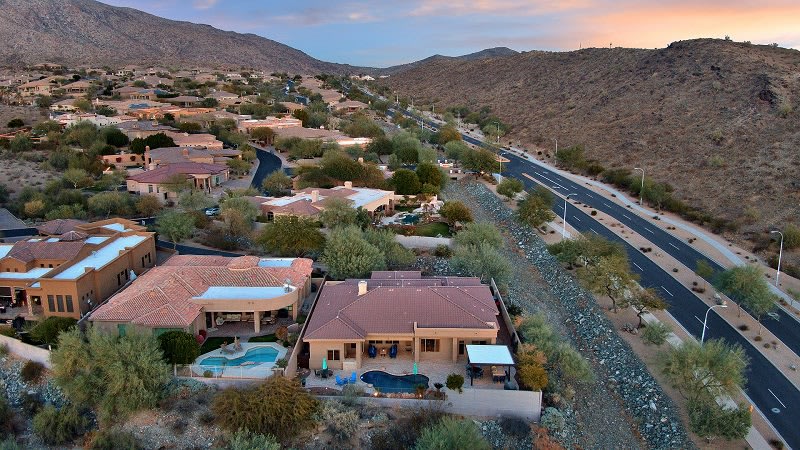 Homes for sale in Chandler
If you're ready to explore the best of Chandler, Ahwatukee, or greater Phoenix, Arizona real estate and need a trusted relocation partner to help secure your next home, contact The Santistevan Group today to start your relocation journey. From Ahwatukee homes for sale to Chandler real estate, allow our team's years of experience and expertise to be your guide on your real estate relocation journey.